Orros Gold STC Disc Gets 4/5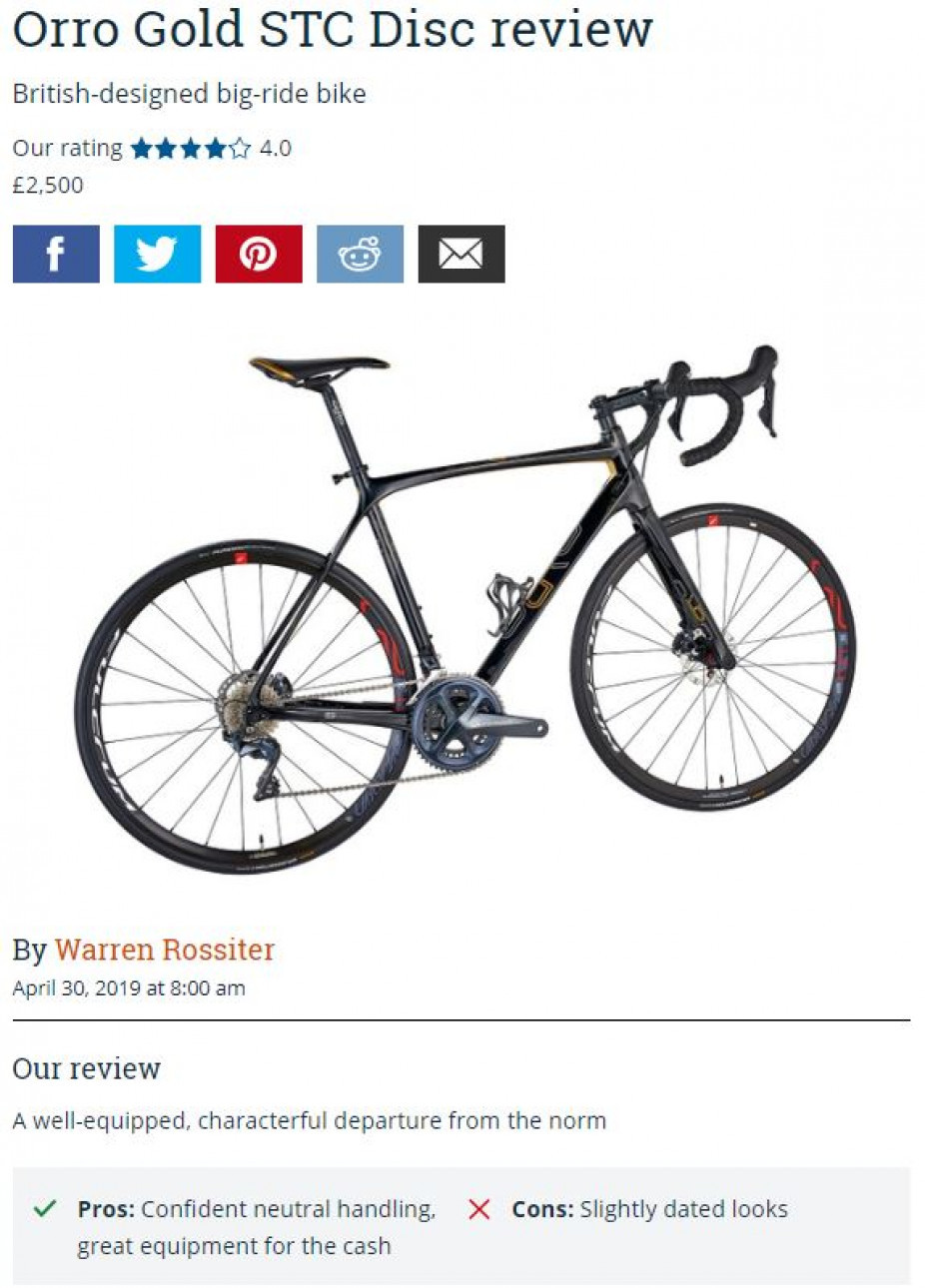 Bike Radar Review
The STC refers to Spread Tow Carbon, which comprises a series of very thin, flat unidirectional 'tapes' interwoven to build up the layers, and gives the raw (gloss-lacquered) carbon finish its unique checkerboard-like pattern.
Orro claims this ordered construction improves the mechanical performance of the individual fibres. It's also said to reduce weight, as the construction is less prone to ripples, wrinkles and other imperfections.
The frame weighs 985g, which is decent for a disc frame. Yes, there are lighter disc chassis around, but you'll be paying significantly more to save very little.
The ride position is similar to the rim-brake model, which impressed us back in 2017. The geometry is pretty sporty with a 596mm stack and 391mm reach combined with a slightly longer 1019mm wheelbase.
It makes for what is best described as an aggressive endurance position, but it's not so extreme as to become wearing after hours in the saddle.
The handling is quick without making you nervous and the chassis does a good job of reducing road buzz, it's a little firmer than an out-and-out endurance bike, but that gives the Gold an eager edge that can often be dulled in bikes built for big miles.
What also suits the bike's overall demeanour is the gearing choice. It's good to see full Ultegra at this price and the 50/34 and 11-30 cassette make the Gold a great bike for longer climbs.
The weight of the 5s is impressive, with the front tipping the scales at 780g (including the disc rotor lockring and rim tape) and the rear at 890g, a total of 1,670g.
Once you've spun your way to the crest of a climb the Gold is a fine companion on descents too. The neutral yet balanced handling on the Gold inspires confidence and I found myself flowing between turns with ease.
The Ultegra brakes have bags of feel but Orro has used Shimano's cheaper rotors (non-finned IceTech units) and made the cardinal sin of fitting a small 140mm rotor upfront on a big bike, and that means one thing: the rotor heats too quickly and starts to make a noise. This doesn't affect ride quality but I'm not a fan of screeching when braking…
Orro Gold STC Disc verdict
As a package, the Orro Gold is damn good. It rides well and handles with quiet confidence. The (British) frame design does look a little old school compared to the latest Kamm-tail optimised tubes, but that makes it stand out from the crowd. And if aero isn't one of your concerns then the Gold's obvious value and great overall character should be worth consideration.